Appsbroker Combines the Power of Intel® and Google Cloud to Break Two Records for HPC Speed in the STAC-A2™ Benchmark.
Appsbroker has delivered a record-breaking solution for independent third party testing by STAC®, which involved a cluster of Google Cloud instances (C2) using the 2nd gen Intel® Xeon® scalable processors.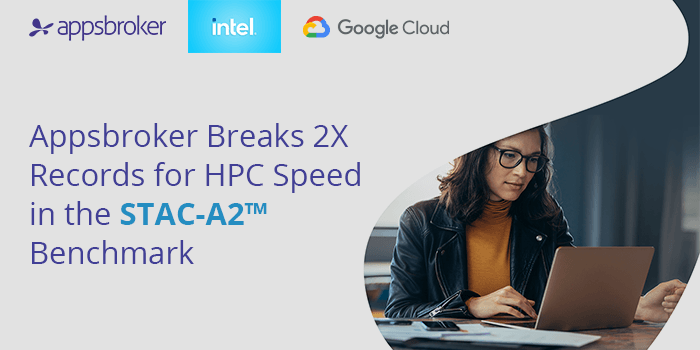 These are the first publicly released, independently audited results of STAC-A2 benchmarks to be tested on a public cloud. Based on a cluster of 10 virtual machines and compared against all other published test results, the records broken at the time of audit were:
The

highest throughput

(STAC-A2.β2.HPORTFOLIO.SPEED)

The fastest cold time

in the large problem size (STAC-A2.β2.GREEKS.10-100k-1260.TIME.COLD)

Compared to a solution involving an 8-node on-premises cluster, this 10-node cloud-based solution revealed the following results:
5x the maximum paths
10% greater throughput
18% faster in cold runs of the large problem size
9% faster in cold runs of the baseline problem size

Geoff Newell, Technical Director, Appsbroker said, "Appsbroker's infrastructure solutions on Google Cloud are the future for our financial services clients, who often have the most demanding workloads. Thanks to STAC we now have the proof that a Google Cloud environment, powered by Intel® can stand up to any on-premise equivalent."

Adrian Poole, Head of Financial Services, Google Cloud commented "We have worked with Appsbroker for many years in the financial services sector - their deep knowledge of Google Cloud, combined with their in-depth understanding of our clients makes the perfect partnership."

The results were audited by STAC®, an independent third party that facilitates the STAC Benchmark Council®. The STAC Benchmark Council consists of over 400 financial institutions and more than 50 vendor organisations whose purpose is:
To conduct substantive discussions on important technical challenges and solutions in financial services.
To develop technology benchmark standards that are useful to financial organisations.

User firms include the largest global banks, brokerage houses, exchanges, asset managers, hedge funds, proprietary trading shops, and other market participants. Vendor firms include innovative providers of hardware, software, and cloud services.


Peter Nabicht, President, STAC said "Risk management is a mission-critical workload in financial services that consumes vast resources, and its importance will only increase with future regulations, like FRTB. STAC-A2 measures the speed, capacity, quality, and resource efficiency of solutions designed to perform the compute-intensive analytics required for risk management.

Appsbroker has shown leadership by applying the latest cloud technologies to this workload and submitting their solution for independent testing."

Mike Blalock, General Manager, Financial Services Vertical, Intel said The STAC A2 C++ code was developed and optimized for Intel Architecture using the Intel® oneAPI Base Toolkit and the Intel® oneAPI Math Kernel Library (Intel® oneMKL). This high-performance code ran OnPrem which Appsbroker seamlessly transitioned to Google Cloud."

STAC-A2 is the technology benchmark standard based on financial market risk analysis. Designed by quants and technologists from some of the world's largest banks, STAC-A2 reports the performance, scaling, quality, and resource efficiency of any technology stack that is able to handle the workload.

To find out how Appsbroker built its record-breaking clusters in more detail, click here.
For more information contact lisa.white@appsbroker.com

About Appsbroker
Appsbroker is one of the largest Google Cloud-only Agile Systems Integrators (ASIs) and Managed Services Providers (MSPs) in EMEA. We deliver digital transformation in weeks, not years for some of the world's leading organisations.

Our deep expertise and passion for Google Cloud Platform, coupled with our proven Agile methodology enables rapid application modernisation, data modernisation and infrastructure modernisation.

We are passionate about delivering smarter ways of working and building productive, lasting relationships. Our collaborative approach, robust processes, and consistently high standards of service across the entire customer life cycle result in extraordinary business outcomes.

About Intel®
Founded in 1968, Intel's technology has been at the heart of computing breakthroughs. We are an industry leader, creating world-changing technology that enables global progress and enriches lives. We stand at the brink of several technology inflections—artificial intelligence (AI), 5G network transformation, and the rise of the intelligent edge—that together will shape the future of technology. Silicon and software drive these inflections, and Intel is at the heart of it all.

About Google
Google Cloud's flexible and scalable HPC offerings help to accelerate time to completion, enabling customers to convert ideas into discoveries and inspirations into products.
References
"STAC" and all STAC names are trademarks or registered trademarks of the Securities Technology Analysis Center, LLC.