In response to the anticipated increase in remote working, Google Cloud is offering users access to the Premium edition of its communications platform, Hangouts Meet. These features will be made available to all users on free, Basic and Business G Suite licences.
This gratuitous move from Google will enable businesses to retain productivity and run effective meetings ahead of the anticipated rise in remote working in the coming weeks. However, to take advantage, your administrator will have to make some slight tweaks within the G Suite admin panel, which you can see in the quick video below:
In light of this move and to help users make the most of the Enterprise features, we've listed our top 5 favourite things about Google Hangouts Meet:
1. Up to 250 participants per call
Hold truly global, private meetings with larger teams than available on Google Meets Basic and Business.
2. Enterprise performance and security
As with all elements of Google Cloud Platform, Hangouts Meet uses the same underlying infrastructure that Google itself runs on. That means you can expect fantastic call quality, virtually no latency and absolute security.
3. Seamless mobile experience
With remote working comes challenges around access. Google Hangouts Meet has a fantastic, easy to use mobile app that enables users to access any meeting on the go; truly mobile working.
4. Meeting notes that you can't contest
How often after meetings do you struggle to remember what actions were agreed upon? Hangouts Meet has a recording feature which can be enabled through clicking the 3-dot ellipsis for distributing after the meeting is finished. Just be sure to check everyone knows they are on camera!
5. Hold public forums
In addition to the extended private meetings, as part of the Enterprise features Hangouts Meet users will also be able to setup live-streaming links to the public for up to 100,000 people, the perfect platform for taking your event digital.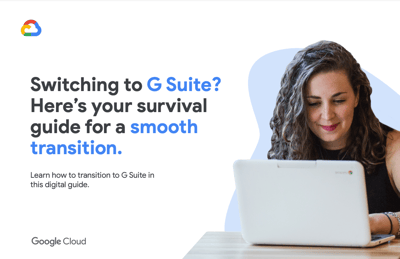 If you are considering a move to the cloud to enable a working from home policy, Appsbroker can support you in making complex Enterprise transitions seamless. We have been empowering businesses to work better with G Suite for over 10 years and manage some of the largest G Suite estates in the UK.