Appsbroker, one of EMEA's largest Google-only Managed Services Providers, and Purple, leading provider of venue analytics, wayfinding and occupancy management, have joined forces to drive tangible business value and growth for their customers through real-time business intelligence solutions. Read on to learn more.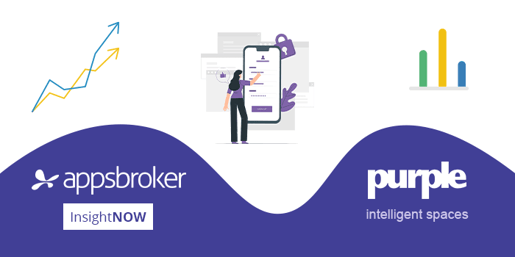 Purple is a UK-based technology firm that offers a free WiFi platform enabling businesses to utilise customer behaviour analytics, marketing automation and wayfinding to enhance the customer experience through targeted messaging.
Read on to discover why Purple chose Appsbroker to drive innovation across its own business with BI solutions and, more recently, for joint customers using insightNOW.


Why Purple chose Appsbroker to deliver digital innovation
Purple chose to partner with Appsbroker due to our 14+ years of experience delivering digital transformations and our consultative, collaborative approach; instead of being a silent partner, we listen, understand and build upon our customers' value propositions for long-lasting results.
We have achieved global specialist status with Google by delivering innovation to major UK brands in areas spanning data analytics, application development and infrastructure - as well as being a launch partner for Google hybrid cloud.
Appsbroker is obsessed with optimising costs to benefit our customers, which is why we're providing Purple with the opportunity to drive innovation at the lowest possible cost through our CLOUD Assure billing management service.
Our managed service wrap extends beyond management and offers continual optimisation and improvement - helping Purple stay at the cutting edge of their field. Our years of experience delivering application development on Google Cloud underpin why some of the world's leading brands choose Appsbroker to deliver their digital transformations.
Unleash instant, actionable insights at your fingertips with insightNOW. Click here to discover how insightNOW customers are able to increase revenues by up to 40%.



'Digital twin' model supercharges the customer experience
Appsbroker and Purple have now teamed up to provide instant insights on the entire end-to-end customer life cycle to personalise and delight the customer from online, to in-store, to delivery. Harnessing the power of data and new innovations, the duo are enhancing customer experiences and improving customer retention far and wide.
The retail sector continues to be a key focus, with Appsbroker and Purple's 'digital twin' model optimising in-store and online experiences through their targeted, omnichannel approach to hyper-personalisation. The partnership is helping Appsbroker and Purple's joint UK customers drive significant business value and growth year-on-year.


Driving innovation through CLOUD Assure & CLOUD Advance
Purple is also taking advantage of Professional Services vouchers through CLOUD Assure, a GCP billing management service, which is exclusive to Appsbroker. This is enabling Purple to harness our experience and expertise delivering bespoke data analytics and machine learning initiatives to drive even more innovation into their products for their customers.
At Appsbroker, we have also developed real-time business intelligence solutions for Purple to drive cause and effect analysis of consumer behaviour, as well as online and in-store data analysis to help drive further business growth.
As a Google Cloud Managed Service Provider (MSP), we're also providing Purple with 24x7x365 support through CLOUD Advance - our rapid response managed services. This gives Purple the confidence to safely deploy critical capabilities on Google Cloud Platform.


Discover insightNOW data streaming & real-time analytics
Purple helps venues optimise safety, enhance the customer experience, and drive revenue. This is achieved through connecting multiple data sources - much of already in place - such as WiFi, sensors, BLE beacons, PoS and CCTV, to our cloud-based platform. From here, businesses get a holistic view of exactly what is happening in their space, enabling them to make informed decisions and drive meaningful action via a number of built-in intelligent space solutions.
Data and insight has been key in driving the success of online giants such as Amazon, Facebook and Google - and now it's time for physical spaces to catch up.
With InsightNOW, Purple and Appsbroker will be able to help their joint UK customers put data at the heart of their businesses and foster a data-driven culture to improve decision-making and performance.
Get in touch to speak to one of our experts and discover how to take control of your existing data and maximise the results for your business using insightNOW.